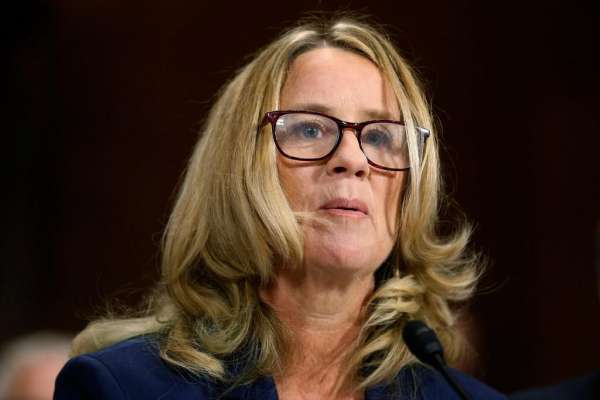 Christine Blasey Ford, Ph.D. testifying before the Senate Judiciary Committee. 
Dear R&A Community, 
I don't know that it is possible to say very much at this moment in time other than try to reflect on what has transpired in our nation's Capital this past week (and what's to come). I don't have much that is unique to contribute, other than re-affirm my own and our staff's profound admiration for the sheer grace, eloquence and bravery of Christine Blasey Ford, Maria Gallagher and Ana Maria Archila (the women who confronted Senator Jeff Flake), as well as the other women who have come forward to share and corroborate their experiences of sexual assault. I have been further moved by the men and women showing up every day to line the chambers of Congress and its hallways with their presence, gaze and voices to protest these hearings and speak truth to power. 

"Look at me when I am talking to you." – Maria Gallagher confronting Senator Jeff Flake.
As a community, we have the profound honor of baring witness to many of our own and our loved ones more private moments of bravery and pathways to healing. In reflecting on this week's hyper-public sphere of disclosure and the outpouring of admiration for Dr. Ford, I was also struck by this moment's gravity and potential to shine a mirror back towards ourselves.
If you had moments of emotion this week watching these women speak their truth, a moment of awe, tenderness, or respect, what would it be like to imagine those same feelings for yourself? With a gentle gaze, could you imagine that this might be the same way people see you and experience your bravery in telling your story or sharing your struggle out of fear or shame from abuse? Could you give yourself some of the same compassion and respect? Is there a way to use the magnitude of these public spectacles to strengthen our most private of voices, the one we use with ourselves… 
In gratitude and curiosity, 


Courtney Rennicke, Ph.D.