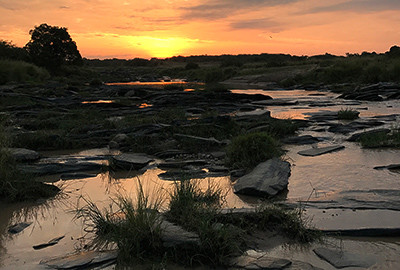 Sunrise on the plains of the Masai Mara, Kenya.
"The bigness of the world is redemption…To dig deeper into the self, to go underground, is sometimes necessary, but so is the other route of getting out of yourself, into the larger world, into the openness in which you need not clutch your story and your troubles so tightly to your chest. Being able to travel both ways matters, and sometimes the way back into the heart of the question begins by going outward and beyond." – Rebecca Solnit, The Faraway Nearby, 2016 
Dear R&A Community,
Did you get a chance to head out into the larger world this summer? I hope so. Are you starting to settle in to your fall routine or is there still too much newness to integrate, too many new edges to smooth out? I would say we are bursting here at our office with new faces, ideas and energies, which has felt like a dance of warm electricity trying to find its proper circuits. It is a delightful dilemma and yet requires some extra efforts on all our parts to re-constitute ourselves, incorporate our new members, and re-configure our roles in our expanding R&A family.
Fall is often a time of introductions and getting settled into a new routine. It can necessitates a re-telling of the stories of who we are, who our partner is (or is not), or who our child is. It can feel like an expansive opportunity for a "fresh start" or a sense of dread at having to relay the importance of your life's complexities to strangers who may or may not "get it".
We have started the process of telling our stories to each other here at R&A and of finding ways to be known amongst the new and existing members of our team. We are welcoming seven new team members this fall: Alea Holman, Ph.D., Dan Wolfson, Psy.D., Ellie Cobb, Ph.D., Lia Avellino, LMSW, and Nick Fernandez, MA on our clinical team and Missy Allan and Ashley Hanooman on our administrative team.
"What's your story? It's all in the telling. Stories are compasses and architecture: we navigate by them, we build our sanctuaries and our prisons out of them, and to be without a story is to be lost and in the vastness of a world that spreads in all directions like arctic tundra over sea ice. To love someone is to put yourself in their place, we say, which is to put yourself in their story, or figure out how to tell yourself their story."
– Rebecca Solnit, The Faraway Nearby, 2016 
Storytelling is a big part of the trainings that I do.  Before I even start teaching, I also have to introduce myself repeatedly and hear an often amusing, reductive echo of myself reverberate through language barriers and cultural filters – a nickname, a favorite hobby, a hometown. When I was in Nakuru, Kenya this summer in an effort to relieve my very gracious hosts of the burden of pronouncing Courtney in their lovely Swahili inflected English, I offered a little used nickname of mine, Coco, which quickly and with great delight became "kuku", Swahili for chicken. The fact of my nickname did not tell my story per se, but I feel that our laughter together at the giggling calls of "kuku! kuku!" and the felt sense that I could take a joke and have a good laugh maybe did speak more directly about me, to my being seen and seeing something more essential about them.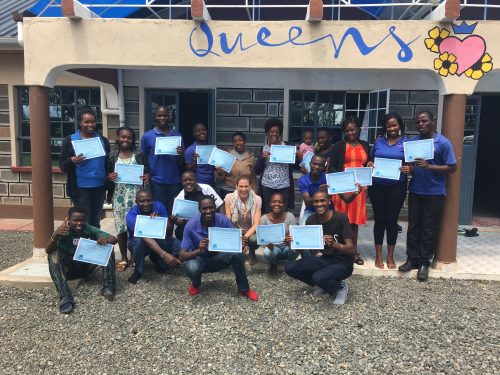 The power went out on graduation day, but the electricity of this remarkable group of 17 was fierce for all 4 days of training at Play Kenya / Rafiki Mwema in Nakuru, Kenya.
"If numbness contracts the boundaries of the self, empathy expands it." You can think of it "as an awakening, but you can also think of it as an enlarging" – to take the people you meet, into yourself and "allow your boundaries to move outward."
-Rebecca Solnit, The Faraway Nearby, 2016 
My hope when I am teaching is to help parents and professionals to create a deeper, more nuanced story about the children they care for.  This is done with heartfelt acknowledgement of the courage it takes to become more aware of the sharp pains and knotted scars of their own stories. Baring witness to the fearlessness and candor of the Play Kenya/Rafiki Mwema staff to lay bare their stories with a clear-eyed intention to connect with one another and the children they serve was an embodied, soul-shaking experience that has altered my DNA.
I will be forever grateful to my colleague Anne-Marie Tipper for the invitation and the trust to "go there" with her staff who care for formerly homeless and sexually abused boys and girls in 4 different therapeutic homes in Nakuru, Kenya. I don't think I've ever been confronted so simultaneously with the deep joys and sorrows of humanity in such rapid and undulating succession. And I don't think I will ever dance as much, sing as much and smile as much at any training I will ever do in the future.
Let's continue to tell our stories to each other and to take time to allow them to reverberate towards a more seen and powerful community this fall.
Asante sana,
Courtney Rennicke, Ph.D.
aka KuKu