Dear R&A Community –The right stuff and deep space…
Hello R&A Community,
After being hit with multiple political sledgehammers of basic bodily autonomy rights being revoked for people who can get pregnant and gun protections laws being peeled back in the face of abject horror and terror in Texas, I was seeking some emotional nourishment. In what seemed like a cosmic gift, NASA released the first images from the James Webb Space Telescope in the midst of our human struggles. There was something almost pure of heart and optimistic about marinating in the beauty of these images that take our gaze far out, up and away from this planet for a moment.
It is not just that the now ancient spectral light captured on these images so effortlessly triggers awe, or alternately as @louisvirtel commented on Twitter, invokes associations to the "opening credits to a 1977 Donny and Marie variety special". They somehow conveyed in a more impactful way to me that nagging, faintly groundless sensation of just how small we are in such a vast and old universe (e.g. the incomprehensible information that the brilliant light we are seeing from a "dead" star could be 13 billion years old and has traveled from millions of miles away). I caught some of the live footage of media roll out of these images and the astrophysicists, engineers glee and joy at what they had worked to create together, their labor of love.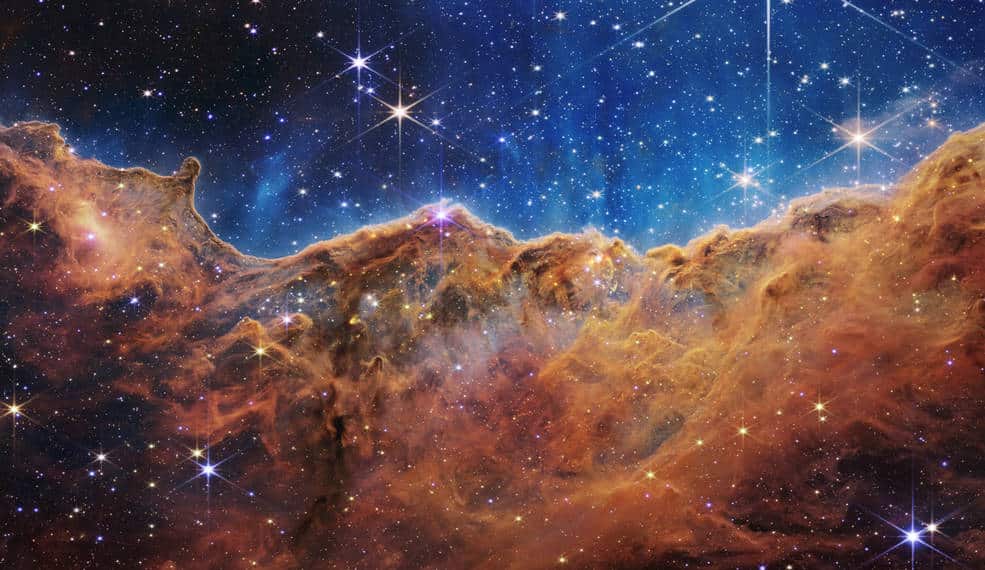 Carina's Nebula aka new star nursery of the James Webb Space Telescope
The winter I was 10 years old,I became particularly obsessed with the stars. I got a telescope for Christmas and would spend hours outside in the snow, bundled in a snow suit gazing up at my own private planetarium. I would like to read a poem to that younger self and if it suits you, please read along or listen to the amazing environmentalist and marine biologist Ayana Elizabeth Johnson who shared this remarkable poem by a 21 year old Pakistani climate activist, on the On Being podcast:
On Another Panel About Climate, They Ask Me to Sell the Future and All I've Got is a Love Poem (CLICK TO LISTEN)
By Ayisha Siddiqua
What if the future is soft and revolution is so kind that there is no end to us in sight.
Whole cities breathe and bad luck is bested by a promise to the leaves.
To withstand your own end is difficult.
The future frolics about, promised to no one, as is her right.
Rage against injustice makes the voice grow harsher yet.
If the future leaves without us, the silence that will follow will be an unspeakable nothing.
What if we convince her to stay?
How rare and beautiful it is that we exist.
What if we stun existence one more time?
When I wake up, get out of bed, my seven year old cousin
with her ruptured belly tags along.
Then follows my grandmother, aunts, my other cousins
and the violent shape of their drinking water.
The earth remembers everything,
our bodies are the color of the earth and we
are nobodies.
Been born from so many apocalypses, what's one more?
Love is still the only revenge. It grows each time the earth is set on fire.
But for what it's worth, I'd do this again.
Gamble on humanity one hundred times over
Commit to life unto life, as the trees fall and take us with them.
I'd follow love into extinction.
Thank you NASA scientists for your love and passion for space, Ayana Elizabeth Johnson for your love of the ocean and for looking in the direction of realism and hope about how to solve climate change that lead you to find and share this beautiful poem.
Wishing you all ease, grace, and fire in your belly to follow love wherever it leads you this summer,
Courtney Rennicke, Ph.D.