I am a licensed psychologist with experience in supporting adolescents and young adults in the context of psychotherapy to navigate challenges of interpersonal relationships, trauma, identity exploration, life transitions, and more.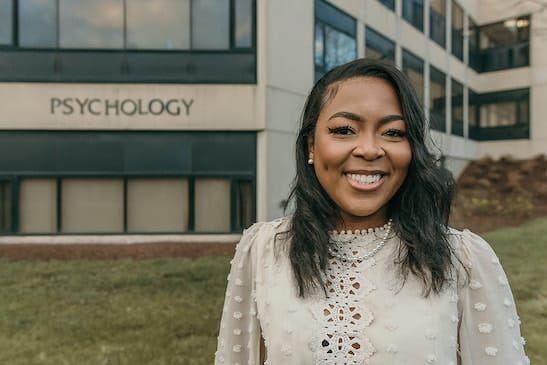 Sadé Porter, Psy.D., NCSP
Licensed Psychologist,
Licensed School Psychologist
P: (212) 337-3565 Ext. 12
Monday 11AM – 6PM (Virtual)
Tuesday 10AM -7PM (Virtual)
Wednesday 11AM-6pm (In-person)
Thursday 11AM – 7PM (In-person)
Teens (13-18)
Young Adults (18-24)
Client Types (Individual)
"The therapy space is scared and vulnerable. I honor rapport building and trust within the therapeutic alliance to foster healing in the youth and adults that I work with. " – S. Porter
Sadé embodies a client-centered therapeutic style that works from an anti-racist standpoint consisting of genuine compassion and empathy for the vulnerabilities of the individual. She is a trained school and clinical psychologist with a focus on trauma-informed care, gender identity, and grief/loss. Sadé has experience delivering the following treatment modalities: Cognitive Behavioral Therapy (CBT), Trauma-Focused Cognitive Behavior Therapy (TF-CBT), Family Therapy, and Interpersonal Psychology for Adolescents (IPT-A) to adolescents and young adults. Previously, she served as an educator for five years cultivating academic success of middle and high school students.
Anxiety
Depression
Grief/Loss
Complex Trauma
Racial Trauma
Adjustment and Life
Transitions
Gender Identity Formation
Doctor of Philosophy (Psy.D.) in School Psychology
Rutgers University Graduate School of Applied and Professional Psychology
Master of Psychology (Psy.M.)
Rutgers University Graduate School of Applied and Professional Psychology
Master of Arts in Education, Counseling, and Clinical Psychology (M.A.)
Teachers College, Columbia University
Master of Science in Education (M.Ed.)
University of Miami
Bachelor of Arts in Clinical Psychology (BA)
Tufts University
Bachelor of Arts in Child Development (BA)
Tufts University
Recent Clinical Experience
Child Psychology Postdoctoral Fellow
Mount Sinai St. Luke's and West (Morningside) Hospital, New York, NY Comprehensive Adolescent Rehabilitation and Education Service (CARES)
Child Psychology Intern
Mount Sinai St. Luke's and West (Morningside) Hospital, New York, NY American Psychological Association (APA) Accredited Psychology Internship program Comprehensive Adolescent Rehabilitation and Education Service (CARES)
Psychology Extern
Newark Beth Israel Medical Center-RWJ Barnabas Health Metropolitan Regional Diagnostic and Treatment Center, Newark, NJ
CLINIC COORDINATOR
Center for Psychological Services, Piscataway, NJ
CLINICIAN
GSAPP COVID-19 Psychological Services Center for Psychological Services, Piscataway, NJ
School Psychology Extern
Somerville School District, Somerville, NJ
Clinican
Experience Camps for Grieving Children, Equinunk, PA
Psychologist, New York State
Psychologist, New Jersey
School Psychologist, New York
School Psychologist, New Jersey
FOR OUR LATEST NEWS AND EVENTS