Dyadic Developmental Psychotherapy Spring 2019 Study Day
May 17, 2019 @ 8:30 am

-

11:30 am
DDP Study (Half) Day: Exploring the Possibilities and Boundaries of Working with Parents in DDP
FOR MENTAL HEALTH PROFESSIONALS ONLY.
Please join certified DDP Trainer Courtney Rennicke, Ph.D. and DDP Consultant Leah Crane, Psy.D. in a morning breakfast session to discuss some of the most frequently asked, rich and perplexing questions about how to engage with parents with their own histories of complex relational trauma, marital difficulties, and attachment histories that appear at times to make them seem resistant to P.A.C.E. and to DDP. Participants will be invited to bring video of their sessions and/or case materials for consultations.
---
When: 
This is a one day event takng place on:
Friday May 17th, 2019 from 9:30AM EST – 12:30PM EST
Tickets & Cost:
Tickets may be purchased by check, through Chase QuickPay, or Eventbrite.
Please note: a processing fee will be applied if tickets are purchased through Eventbrite; no fee will be applied if tickets are purchased by check or through Chase QuickPay. 
Standard Ticket: $50 (plus processing fees)
Checks:
Make all checks payable to:
Rennicke & Associates
79 Walker Street, 2nd Floor
New York, NY 10013
Chase Quickpay (with Zelle):
Make all payments to: cr@rennickeassociates.com
For more information on Chase QuickPay, click here.
The study day is open to clinicians who have started DDP training or are just interested in learning more about this model of working with children and their families.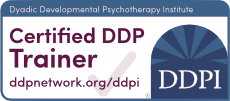 Are you interested in this event?
For upcoming news, sign up to this group